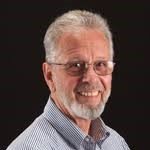 Wayne McCown
Dr. Wayne McCown has served as an ordained minister in the Free Methodist Church since 1964.  Though still actively engaged in ministry, he officially "retired" in 2008 as the Vice President and Founding Dean of Northeastern Seminary at Roberts Wesleyan College.  
Dr. McCown earned his B.A. from Seattle Pacific University, B.D. (M.Div.) from Asbury Theological Seminary, M.A. from the University of Washington, Th.M. and Ph.D. from Union Theological Seminary in Richmond, Virginia. 
Following completion of his doctorate in Biblical Studies in 1970, Wayne began his ministry on the west coast, as a professor at Seattle Pacific University, Western Evangelical Seminary, and Azusa Pacific University.  He was first elected to administrative office in his mid-thirties, serving as Dean of Western Evangelical Seminary and then Superintendent of the Southern California-Arizona Conference of the Free Methodist Church.
The McCowns came east in 1988 when they joined the Roberts Wesleyan College community.  At RWC Dr. McCown first served as Vice President for Academic Affairs, then Senior Vice President and Provost of the College and founding Vice President and Dean of the Seminary.
Dr. McCown now holds the honorary titles of Provost Emeritus of Roberts Wesleyan College and Dean Emeritus of Northeastern Seminary.  In 2018, Northeastern Seminary awarded him the honorary degree Doctor of Divinity (D.D.). 
Drs. Wayne and Darlene are both significantly involved at Hope Africa University in Bujumbura, Burundi.  In January 2020, they completed their 12th tour as Visiting Faculty.  Wayne has served for 14 years on the states-side Friends board supporting the development of this Free Methodist university.
Wayne also serves on another Friends board supporting development of a Free Methodist university in Hyderabad, India, and as liaison to a third Christian university the Free Methodist Church is developing in Haiti.
Wayne and Darlene have been part of the Lighthouse Christian Camp community since 2000. In September 2019, Wayne was reelected to the board.  Previously, he served for six years as board chair and Camp president; he now chairs the Spiritual Life Committee.
Wayne was born in California, the oldest of 10 children.  He and Darlene will celebrate their 57th anniversary on June 14, 2020. They have two sons, Mark (Dorcas) and Peter (Wendy); a foster daughter passed away in 2006.  They have six grandchildren.